MOTHER OF PEARL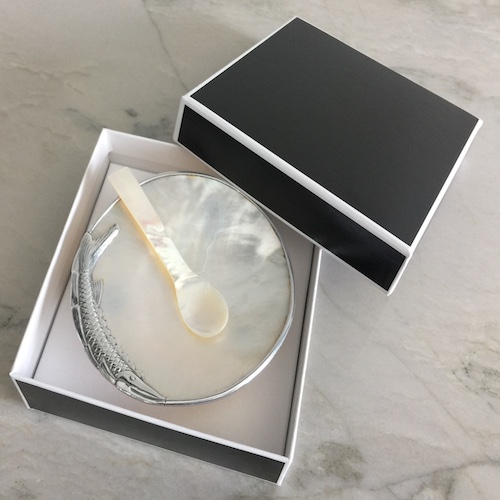 Nacre ( /ČnejkYr/[1] nay-kYr), also known as mother of pearl, is an organic-inorganic composite material produced by some mollusks as an inner shell layer; it is also what makes up pearls. It is very strong, resilient, and iridescent.
Nacre is found in some ancient lineages of bivalve, gastropod and cephalopod. The inner layer in the great majority of mollusk shells is porcellaneous, not nacreous, frequently resulting in a non-iridescent shine or less commonly in non-nacreous iridescence such as flame structure (e.g. conch pearl).
Pearls and the inside layer of pearl oyster and freshwater pearl mussel shells are made of nacre. Many other families of mollusk also have a nacreous inner shell layer, including marine gastropods such as the Haliotidae, the Trochidae and the Turbinidae.

Mother of pearl is used to make spoon-like utensils for caviar, so as to not spoil the taste with metallic spoons.

BLACK CAVIAR MENU
SPECIALTY CAVIAR MENU
Gift Catalog
Caviar Serving Ware
Gourmet Food
Search