Policies
We respect your privacy!

Any and all the information collected on this site will be kept strictly confidential and will not be sold, reused, rented, disclosed, or loaned! Any information you give us will be held with the utmost care and will not be used in ways that you have not consented to.

T.O.S. (Terms of Service)



ATTENTION

Please read these terms carefully before using this website (BeverlyHillsCaviar.com). By using this website you indicate that you accept these terms. If you do not accept these terms then do not use this website.

Site transactions

We reserve the right to refuse any order you place with us. We may, in our sole discretion, limit or cancel quantities purchased per person, per household or per order. These restrictions may include orders placed by or under the same customer account, the same credit card, and/or orders that use the same billing and/or shipping address. In the event we make a change to or cancel an order, we will attempt to notify you by contacting the e-mail and/or billing address/phone number provided at the time the order was made. We reserve the right to limit or prohibit orders that, in our sole judgment, appear to be placed by dealers, re-sellers or distributors.




Site Content
All text, images, graphics, and other materials on this website are subject to the copyright and other intellectual property rights of Beverly Hills Caviar, unless otherwise stated. These materials may not be reproduced, distributed, modified or reposted to other websites without the express written permission of Beverly Hills Caviar.

Product Information


All of our caviar is from legal catch only and is always carefully inspected before being sent to clients.
Do not consume if you are allergic to: Seafood, fish or any product that originates from a body of water.

Handling Instructions: Refrigerate at 32F-36F and use within 5 days. Otherwise, freeze and thaw slowly before serving. For more handling instructions email us here.

Certain products are available exclusively online through the site. These products may have limited quantities and are not returnable. In addition, products offered locally may include a larger variety and may be purchased in bulk quantities.

Refund Policy

All merchandise on the site is guaranteed.
If the package hasn't been shipped yet, the refund can be done immediately by calling us toll free 877-556-6777.
All Non perishable products can be refunded if shipped back to us within 24hours.
If the items were damaged during the travel, you can refuse the package. Otherwise, you may email us with photos of the damage and we will file a claim and take it from there.
All Caviar packages are designed to travel for an additional 24hrs, in case of a delay. So please, don't be alarmed if you receive your caviar a day late.
Any caviar that travels longer than 48hrs, should be rejected by the consumer.
However, if the caviar left our facility, and the customer did not reject the package, a refund can still be issued if the following conditions are met:

 


1) The jar/tin has not been opened or consumed.


2) The concern has been reported to Beverly Hills Caviar's main offices within 24 hours of delivery via email or by calling our customer service center toll free: (877) 556-6777.


3) The caviar was not a gift.


4) The payment has cleared and is not pending during the complaint.


5) Beverly Hills Caviar will supply you with a return label, if the issue was reported within 12 hours of the receipt. The package must be kept in the freezer and returned to a FedEx station the next day.    


6) The caviar must be delivered with a copy of the invoice.

Service Fees / Payments/ Invoices
All BeverlyHillsCaviar.com fees and charges are quoted and billed in US Dollars unless otherwise noted.

BeverlyHillsCaviar.com uses an automated payment processing system and only accepts PayPal payments at this time. All Subscribers are required to maintain valid payment information on file for the processing of any applicable service fees. At its sole discretion, BeverlyHillsCaviar.com may use credit card issuer-approved services, such as VISA Account Updater and MasterCard Automatic Billing Updater, to acquire updated payment information for the purpose of processing outstanding payments that are on your account.

BeverlyHillsCaviar.com may take any reasonable action to validate your payment and registration information, and collect all payments due. You agree to pay all attorney and collection fees arising from any efforts to collect any past due amounts from you, to the extent allowed by law.

Service fees are due at the time of order or on the day of renewal. All fees must be paid in full.

Invoices for all BeverlyHillsCaviar.com services can be found by logging into your online account.

Billing inquiries and disputes should be brought to BeverlyHillsCaviar.com's attention within 30 days of the invoice date. Failure to do so will be deemed to be an admission that the invoice and charges are accurate.

If any charge back or charge dispute notices are received for your account, services provided to you may be immediately suspended pending investigation, and you will be subject to charge back service charges. Where applicable, BeverlyHillsCaviar.com reserves the right to put your domain name into "Registrar Hold" status and deny any transfer requests for that domain name until the charge back or dispute issue has been resolved.

Accounts will be suspended if its service renewal fees are not paid within 72 hours of the due date. Accounts suspended in this manner can be re-activated upon payment of the Account Reactivation Fee (see below).

Any applications or requests for services will be declined if payment cannot be successfully processed within 72 hours of the order.





Privacy
Beverly Hills Caviar respects the privacy of our customers. All personal information you enter in our database is kept for the purpose of allowing you to check your account status, and for our own internal mailing list, so that you may receive notifications about your account or special promotions that Beverly Hills Caviar is offering.

Protecting your privacy. Improving your shopping experience. Your trust is very important to us. That's why we want to be clear and transparent about why we collect information, the information we collect, how we use that information, and the choices you have regarding our use of it. We may also collect, use and share aggregate or anonymous data that does not identify you.

We collect information to save you time and money, and to make your shopping experience better. The following principles guide us when doing business and provide the foundation of our privacy policy. These are:

· We respect your privacy and are committed to protecting it
· We are transparent about how and why we collect information
· The information we collect helps us provide value to our customers that include savings and enhancing their shopping experience

This Privacy Policy was posted and is effective as of June 30, 2021. However, as our business, the law or customer needs evolve, we may update this Privacy Policy at any time. You can always view the current Privacy Policy by clicking on the Policy link at the top of Beverly Hills Caviar website. By using our site and services, you consent to this Privacy Policy. Our services are provided to U.S. customers, and this Privacy Policy is governed by U.S. legal requirements. If you access our services from outside the U.S., you agree to the application of U.S. law.

We are also committed to ensuring that our communications are accessible to people with disabilities. To make accessibility-related requests, please contact us at 1-877-556-6777.

Promotions
Any promotional content contained on this website is subject to inventory availability. Beverly Hills Caviar reserves the right to cancel or modify any such promotion at any time and without notice.

External Links
Beverly Hills Caviar may have (hypertext) links to other unaffiliated websites. Linking to such websites is at your own risk. Beverly Hills Caviar has not reviewed all of the content of such linked websites and is not responsible for the content of any such linked website. Any (hypertext) links contained on this website shall not be construed as an endorsement by Beverly Hills Caviar of any such linked website.

Choice of Law

This Agreement shall be construed in accordance with the laws of the State of California, without

regard to any conflict of law provisions. Any dispute arising under this Agreement shall be resolved exclusively by the state and/or federal courts of the State of California, County of Los Angeles. The waiver of any provision of the Agreement shall not be considered a waiver of any other provision or of Beverly Hills Caviar's right to require strict observance of each of the terms herein. If any provision of the Agreement is found to be unenforceable or invalid for any reason, that provision shall be severable, and all other provisions shall remain in full force and effect. This Agreement constitutes the entire agreement between us relating to your use of the Site.

Shipping Information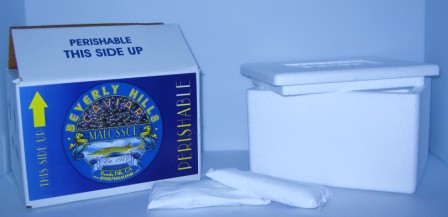 To ensure caviar freshness, all caviar orders are shipped ONLY via FedEx Overnight within special foam boxes/thermal packs with included gel packs.
We do not ship to P.O. Boxes or in areas that FedEx doesn't delivery to.
FedEx Shipments are shipped on Monday through Thursday and not on holidays. For FedEx First, Priority, Standard Overnight, 2nd day orders - Orders must be placed before 12:00pm (Beverly Hills, California Time) to be shipped same day (upon availability) and will arrive next day to your location. If you require a special shipping arrival date or need to meet a delivery deadline, please contact our customer support for availability.
If you order online between Friday through Sunday, then your order will be shipped on the following Monday. If Monday turns out to be a holiday,  your caviar order will be shipped on the next possible business day. For some areas Saturday delivery is available via FedEx upon checkout. It is recommended that you contact customer service at 1-877-55-66-777 for special delivery date arrangements prior to ordering, if specific delivery date/time is important.
Once your order has been processed and shipped, you will receive the tracking number of your order with FedEx or the local delivery service via E-mail. Also, if you are a registered member of Beverlyhillscaviar.com you may simply login to your account and see the status of your order and tracking information in real time.
You will be required to sign for the order as it arrives by FedEx, or other delivery service, to your location.
If you have a specific date in which you would prefer your order to arrive on, please call us immediately after placing your order online with instructions, or simply enter the information on checkout in the Customer Notes Section.
Local same day emergency caviar deliveries available (7 days a week), call us at 1-877-556-6777 for prompt delivery service throughout Los Angeles, California. For most accurate information on same day delivery, it is recommended that clients call us prior to ordering online with this feature. 

If you have any questions or comments feel free to contact us here.
Caviar
Caviar Set-Up
Specialty Foods
Truffles