Free Caviar Recipes How To Serve Caviar By Beverly Hills Caviar
Caviar Appetizer Variety Masterpiece



Caviar Appetizer Variety Masterpiece:

1) Cut blinis or potato pancakes into star or square shapes.

2) Place wrapped thin slice of smoked salmon with cucumber and parsley. Another start shaped blini includes a thin slice of a hard boiled egg with a generous dab of fresh Royal Osetra Caviar on top.

3) Another star shaped blini features a thinly sliced cucumber with salmon caviar and parsley.


Red potato delight



Gourmet Red Caviar Delight

1) Simply slice boiled red potatoes and top with sour cream or creme fraiche.

2) Apply a dab of premium salmon caviar or Classic Osetra Caviar on top.

3) Add thinly sliced green onion to taste.


Presidential Black Caviar Appetizer



Presidential Black Caviar Appetizer

1) Apply dab of fresh Classic Osetra Caviar.

2) Top caviar on mini toast/crackers with cream cheese or butter.

3) Dine in style with this delicious appetizer.


Smoked Salmon Wraps


Smoked Salmon
Pickled Veggies
Soy Wrap


Classic Blini With Russian Osetra Caviar And Wassabi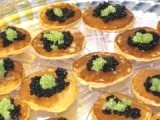 Amazing quick appetizers for your guests.

Ingredients:
1 Pack of Beverly Hills Caviar's Classic Blini

1.1lb Horseradish (wasabi) Tobikko

Russian Osetra Caviar (12oz )

Serving Tray

Open the Classic Blini pack and heat (follow the heating instructions on the pack)
Place a generous dab of Russian Osetra Caviar on top of the blini. Then place a small dab of wassabi topping the Imperial Osetra Caviar.


Fresh Cucumber Cups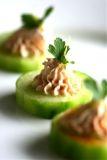 Cucumber salmon cups with caviar.

For the cups: Partially skin your cucumber to make stripes. Cut your cucumber into 1 inch slices and with a melon baller scoop out some of the middle to make a cup.

For the salmon cream: Take 1 pound of smoked salmon, 1 pound of cream cheese, 2 heaping table spoons dried dill, 1/8 tea spoon of salt, 1/8 teaspoon of sugar and enough heavy cream to smooth it out while keeping it thick.

Using a pastry bag with a big tip squeeze mixture into the cucumber cups and garnish with a sprig of fresh dill and some salmon caviar.

Recipe and photo provided by Chef Brian Simon


Truffled Vegan Dinner


Sophisticated Lox Appetizer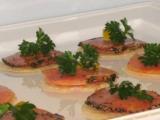 Quick and easy to serve appetizers for your guests.

Ingredients:
Pack of thin crakers
8oz of Smoked Scottish Salmon with peppers and herbs
Parsley and Yellow Pepper
creme fraiche
circular food cutter


Classic Osetra Caviar and Red Peppers


Classic Osetra Caviar
20-30 pickled red peppers
7.5oz creme fraiche
chive
flowers for decoration


Caviar Tasting Experience on ice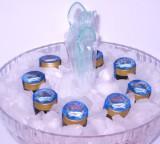 Tray of 0.5oz Caviar Tasting Experience
8 Spoons
1 Bowl With Crushed Ice


Classic Sevruga Caviar with tomatoes and Creme Fraiche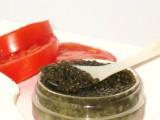 Classic Sevruga Caviar - 8oz
Sliced Grape tomatoes XL
Creme Fraiche


Osetra Caviar with Cheese


4oz Classic Osetra Caviar
8 mozzarella Balls marinated in olive oil and herbs
Extra Virgin olive oil with black truffles
Tabasco sauce


Truffled Vegan Caviar Delight


Salmon cups appetizers


Flatten mango slices and place it on each plate. Steam rice. PLACE smoked salmon slice on a flat surface and lay the seaweed sheet on it. spray a bit of water and make sure that they stick. roll it with the steamed rice and slice the cylinder every 1in-1.5in. place the salmon caviar on top of each creation and place 3 units on each plate. place a slice of lime, parsley/chives/sprouts over a side slice of red onion. decorate with premium truffle vinegar.

Recipe by: Kelly (Beverly Hills Caviar)


Beverly Hills Caviar Tasting Club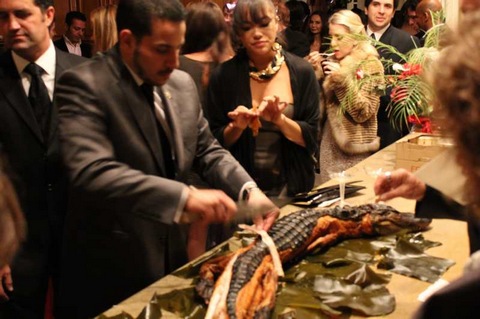 Learn caviar recipes from celebrity chef Marcel Vigneron at Beverly Hills Caviar Tasting Club Event in a private Bel Air Mansion. To watch the video simply click on the photo on the left.


Classic Gold Caviar with Italian Truffle Paste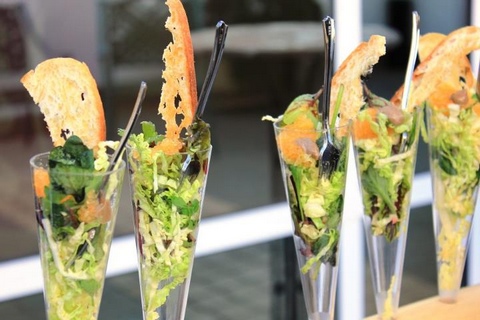 Click on the photo to see how celebrity Chef Keven Lee prepares this amazing appetizer using Beverly Hills Caviar ingredients


Beluga Caviar Appetizer


Click on the photo to see how celebrity Chef Keven Lee prepares this amazing appetizer using Beverly Hills Caviar ingredients


Escargot with Escargot Caviar on Garlic Bun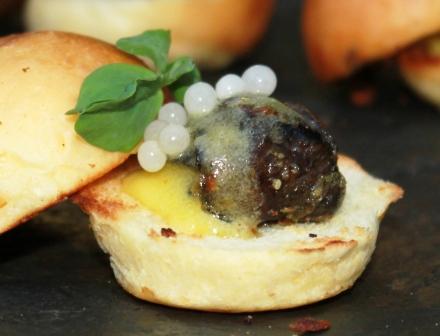 Click on the photo to see how celebrity Chef Keven Lee prepares this amazing appetizer using Beverly Hills Caviar ingredients


Classic Osetra Caviar recipe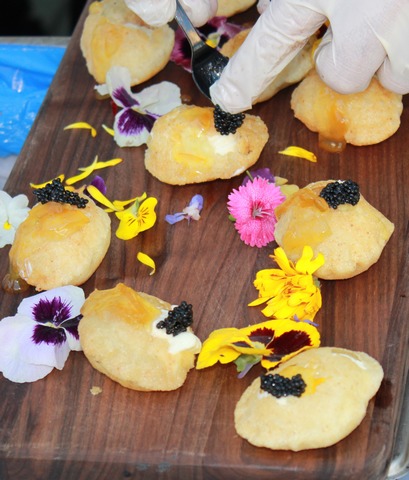 Click on the photo to see how celebrity Chef Keven Lee prepares this amazing appetizer using Beverly Hills Caviar ingredients


Beluga Caviar Recipe By Chef Marcel Vigneron Serving Beluga Caviar - Beverly Hills Caviar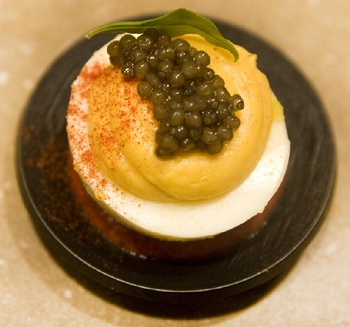 Click on the photo to see how celebrity Chef Marcel Vigneron prepares this amazing appetizer using Beverly Hills Caviar ingredients


Caviar
Caviar Set-Up
Specialty Foods
Truffles